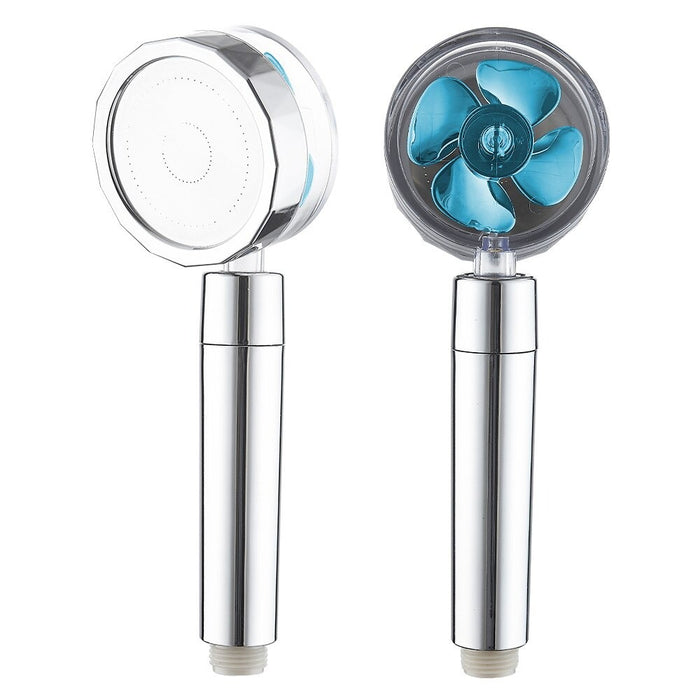 Propeller Shower Head With Fan
Visitors are browsing our store
Hurry! this special sale ends in
In Stock
Save

$19.99
Save

$19.99
Original price
$39.98
-
Original price
$39.98
Your information is 100% secured

Elevate your daily shower routine with the Propeller Shower Head With Fan, designed to provide an exceptional bathing experience.

Featuring a unique fan turbo shower head design and a universal rotating head, this showerhead enhances your shower time with remarkable water flow and flexibility.
FEATURES:
Type: Fixed Support Type:

Designed for stability and convenience, this showerhead features a fixed support type to ensure it stays securely in place.



Shower Shape: Round:

With a classic round shape and a sleek chrome finish, this showerhead complements any bathroom decor while delivering superior performance.



Surface Finishing: Chrome:

The chrome surface finishing not only enhances the showerhead's aesthetics but also adds durability, making it resistant to corrosion.



300-hole Pressurized Showerhead:

Enjoy an invigorating shower experience with a 300-hole pressurized showerhead, which ensures thorough water coverage for a refreshing bath.



Diameter=2cm:

With a compact diameter of 2cm, this showerhead efficiently combines power and precision for an optimal showering experience.



Working Temperature: 1-90:

This showerhead can handle a wide range of temperatures, from 1°C to 90°C, ensuring its functionality in various conditions
Amazing Waterflow:

Experience a fantastic water flow that guarantees your shower enjoyment. This showerhead's outstanding performance combines beauty with strength. It incorporates modern air injection technology to increase water pressure while conserving water. Enjoy regular, intense rain showers even with low water pressure. The heat-resistant nozzles are easy to clean, anti-aging, and resistant to clogging, providing higher water pressure for an invigorating shower.



Premium Quality:

Crafted from ABS plastic with a mirror coating, this turbo hand shower head is designed for longevity. Its construction resists dirt, corrosion, and heat, making it a durable choice for your bathroom. The detachable panel allows for easy cleaning, preventing clogs and ensuring long-lasting performance.



Easy Installation:

Installing the handheld turbo fan showerhead is a breeze. It comes with a one-year warranty and features a universal standard size, allowing for straightforward installation by securely screwing it into any shower hose.